Are you interested in spending 3 weeks in Europe this summer, traveling throughout Spain and France, playing soccer and visiting some of the most exciting and interesting cities in these countries? Besides the popular destination like Paris and Barcelona we will also be going to the amazing French Riviera and the island of Majorca. We will spend a week in San Sebastian and participate in one of the largest soccer tournaments in Europe, The Donosti Cup. Additionally, San Sebastian is less than an hour from Pamplona and as luck would have it, we will be there the same week as "The running of the bulls".

The best news of all is you can do all of this for about $3,000.00? That's right, the entire trip will be just over $3,000.00 inclusive of most everything (round trip air from Los Angeles, two inter-European flights, hotels, ground transportation, most meals, competition and tournament). While most sports tour companies would charge $5000.00 to $6000.00 for a comparable trip by making our own arrangements we are able to keep the cost down by 40 to 50%. If this sounds like something you would be interested in please read more.
_
---
WHO CAN GO:

Female youth players ages 14 to 18 with club experience.
Female adult players 18 and over (recommended college experience).
Friends and Family members welcome, however, there will be limited space and will be on a first to commit basis.

Tryouts will be held during the first two weekends of December Location will be

WHERE WILL WE GO:
two Nights Majorca, Spain, the nights in Barcelona, Spain, six nights in San Sebastian Spain, five nights in Paris, France, four nights in Nice, France, and one night in Toulouse, France.

WHO ARE WE: SoCal Select started as a competitive women's soccer club comprised primarily of former collegiate players t wanting to continue playing soccer at a high level after their college career. We have been playing in the SoCal Premier League for the past three years and have been League Champions twice. For the past 8 years, each summer SoCal Select has traveled internationally with a core group of players from their women's team and held holds tryouts for an additional 8-10 players for their travel team. The past three years, SoCal Select has also provided an opportunity for a youth team to travel with them. The SoCal Select youth teams are only summer travel teams and tryouts are open to any players meeting the age requirements. This year SoCal Select is looking to take two youth team (U16, U18) and a Women's team to France and Spain. They will be traveling through France and playing in several friendly matches and will have the opportunity to see the EuroCup2016. Additionally, they will be playing in the Donosti Cup in San Sebastian Spain, western Europe's Largest amateur tournament.
Trip Highlights:
Two nights in Majorca,Spain: A favorite resort destination for all of Europe. One of the five Balearic Islands located off the east coast of Spain. Majorca is known for its incredible beaches and surrounding ancient Roman Ruins. For our Adult women's team although I have never been there, apparently the island has a reputation for having some very nice night clubs.
---
Five nights in Paris, France. One of the most beautiful and popular destination in Europe. Besides the endless number of sights we will be there during the middle of the EuroCup 2016. During our stay each team will be playing 2 friendly matches. Our hotel is located in the heart of Paris, Montmartre (the artist district). You will have access to virtually anywhere in the city via the Metro.


---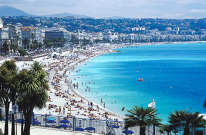 Nice: We will travel to Nice by train. Nice is the heart of the French Riviera and known as the playground to Europe's wealthy. We will be here for 4 nights, We will play a friendly match and play at the beach. We will have an opportunity to visit Monaco and Cannes. During our stay there is a EuroCup quarter final match going on in nearby Marseilles.
---
Toulouse: We will be taking the train from Nice and will be stopping in Toulouse to break up a long train ride. There is a chance we may play a friendly match here before going on to San Sebastian. Although our stay here is short you may get a few hours to explore this beautiful city known as the "la ville rose", the pink city. Named for its unique architectural use of Terracotta tiles throughout the city.
---
San Sebastian, Spain: Located in Basque Country, the area is known as Donosti. This will be our longest stay. We will be here for a total of 6 nights. The Donosti Cup is amazing. One of the largest in Europe. Taking part in the opening ceremonies will be an unforgettable experience. The pride you will experience when marching into the stadium under the US Flag is beyond description. The town of San Sebastian is beautiful. Located on the Atlantic coast of Spain, San Sebastian has some amazing sights and endless activities. Can't find enough to do in San Sebastian, well it's "Bucket List time", a short 1 hour bus ride will take you to Pamploma, Spain and as luck would have it, we will be there during "The Running of the Bulls.

---
Barcelona, Spain: We will spend three nights in Barcelona. The most popular destination in Spain. This amazing city is located on the eastern coast of Spain and is loaded with history and amazing architecture. Also, home to what many believe to be the best club soccer team in the world, FC Barcelona. You will have an opportunity to visit the stadium and museum during our stay. All teams will also be playing a friendly match during our stay.

---